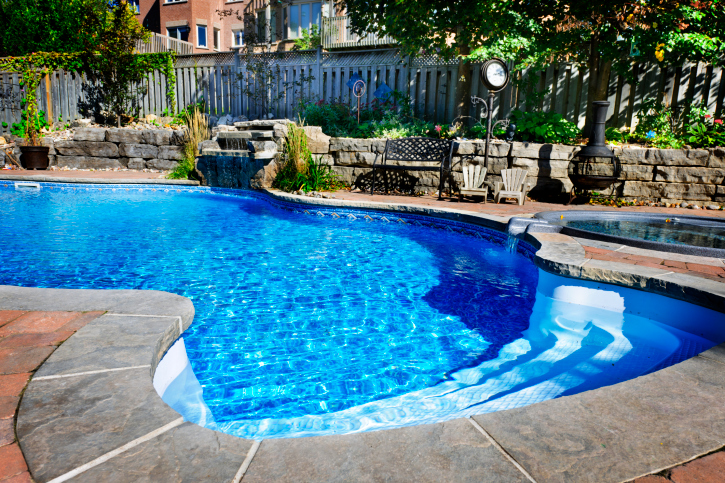 The decision to install a pool is generally one that is applauded by at least certain members of the family. Whether you have children or not, however, having a pool at home is certainly something you can enjoy for yourself.
But what if you don't think your yard is particularly suited to a pool? Don't rule out the idea just yet; instead, consider some of these different pool designs to suit different sizes and styles of backyards.
Make The Most Of Your Small Backyard
For a relatively small backyard, you should always choose the right pool design that will ensure you make the most of the space.
A particularly good option for a smaller backyard is opting for an above-ground pool and having a custom wood deck built around one side of it. The addition of the the wood deck will offer easy access for the kids to get into the pool, and will also give you a place to sunbathe while watching the kids splash around.
Single-Use, Modern Yard: Fiberglass Pool
For an ultra-modern backyard that is relatively small, and especially for a single-use backyard that is going to be dedicated to your swimming pool, a fiberglass pool might be your best option. Since the pool arrives in one single piece, already fully finished, the installation process is very quick and efficient.
Offered in a variety of different shapes, sizes, and styles, you can surely find a fiberglass pool that fits your single-use yard, and you could even have it ready to use within one week. You'll find that the smooth surface of a fiberglass pool is appealing. These pools are also easy to maintain as only a few chemicals are required for cleaning.
With this type of pool that you'll commonly find in vacation homes with modern, polished concrete backyards, you can turn your home into your favorite holiday destination, and much quicker than you might have guessed.
Customizable Concrete Pool For A Large Yard
If you have a large yard and aren't concerned about using up too much space by having a swimming pool put in, why not opt for the most customizable concrete variety? A concrete pool can be constructed in virtually any shape or size you choose, allowing you to put your best creativity to use.
You can opt for texturized pool surfaces as well as well as plenty of add-ons and built-in features, such as a custom entry or a ledge for sunbathing. Customized concrete pools usually take about 12 weeks to build. You can also opt to have a concrete or tile surface installed around the pool, while still leaving plenty of grass and gardening space in your backyard.
These pools are also a great option for irregular backyards, as they can be customized to fit into virtually any shape, just as long as your yard is large enough.
When it comes to house shopping, you can opt to buy a house that already has a pool. Or if you'd prefer to be more involved in the process, you can simply look for a house with a suitable yard.