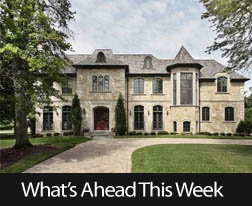 Last week's scheduled economic news was mixed. Job openings increased and jobless claims increased, and consumer sentiment rose. Mortgage rates fell across the board. Labor market conditions improved and consumer prices fell in large part due to decreasing fuel prices. The details:
Labor Market Conditions Index Suggests Stronger Economy, Jobless Claims Jump
Positive labor market ratings continued to show evidence of strengthening economic conditions. The Federal Reserve's Labor Market Conditions Index rose from November's revised reading of 5.50 to December's reading of 6.10. This index measures 19 economic indicators and rose well above its median reading of 1.90. November's reading was the highest since May.
The Fed does not comment on month-to-month readings for this index. Job openings increased from November's reading of 4.80 million to December's reading of 5.00 million in according to the federal government.
Weekly Jobless Claims jumped to 316,000 as compared to the expected reading of 295,000 new claims and the prior week's reading of 297,000 new jobless claims. Analysts said that some volatility in new unemployment claims are expected in the aftermath of the holiday season and noted that the latest reading was the highest since September.
Mortgage Rates, Retail Sales Fall
Freddie Mac reported lower average rates across the board. The average rate for a 30-year fixed rate mortgage fell by seven basis points to 3.66 percent; the average rate for a 15-year fixed rate mortgage also fell seven basis points to 2.98 percent. The average rate for 5/1 adjustable rate mortgages dropped by eight basis points from 2.98 to 2.08 percent.
Discount points for a 30-year fixed rate mortgage were unchanged at 0.60 percent, while average discount points for a 16-year mortgage dropped to 0.50 percent from the prior week's reading of 0.60 percent. Discount points for 5/1 adjustable rate mortgages averaged 0.40 percent as compared to the prior week's average of 0.50 percent. Lower mortgage rates help increase affordability and support home purchases by first-time and moderate income homebuyers.
Retail Sales for December dropped by -0.90 percent against expectations of -0.20 percent and November's reading of +0.40 percent. December's reading for retail sales except autos was lower by-0.10 percent as expected against November's reading of +0.40 percent.
Last week ended on a positive note with the January reading for the Consumer Sentiment Index beating the expected reading of 95.0 with a reading of 98.20. December's reading was 93.60.
What's Ahead
This week's economic reports include the National Association of Home Builders (NAHB) Housing Market Index, Housing Starts, The National Association of Realtors® Existing Home Sales report, FHFA Home Prices and Leading Economic Indicators. Freddie Mac's mortgage rates reports and weekly jobless claims will be released as usual.