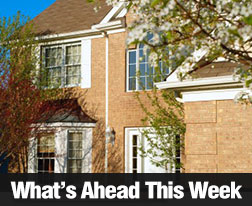 Last week's economic news was dominated by Great Britain's vote to withdraw from the European Union. New and Existing Home Sales were released along with weekly reports on mortgage rates and new jobless claims.
"Brexit" Vote Tanks Stocks, Could Cause Lower Mortgage Rates
US stocks plunged in reaction to the news of Britain's decision to leave the EU and the resignation of its Prime Minister. While investors don't want to see their 401(k) values crash, mortgage rates may also fall as a result of "Brexit". Fallout caused by economic uncertainty connected with Great Britain's move to regain independence is expected to have lingering influence on global financial and economic developments in coming months and years.
Fed Chair Janet Yellen said in testimony before the Senate Banking Committee that Great Britain's decision to leave the EU could have significant consequences. Chair Yellen's comments were made prior to Friday's announcement of Great Britain's decision.
Existing Home Sales Highest Since 2007, Home Prices Continue Rising
According to the National Association of Realtors® May sales of pre-owned homes hit their highest level since February 2007. May's seasonally-adjusted annual reading of 5.53 million sales fell just shy of analysts 'expectation of 5.55 million sales, but exceeded April's reading of 5.43 million sales. May's reading represented a 1.80 percent increase in sales and a year-over-year increase of 4.50 percent.
Short supplies of available homes continued to drive up home prices according to NAR chief economist Lawrence Yun, who expressed concerns about affordability as home prices continued to outstrip wages and inflation. The national median home price was $239,700 in May, which was 4.70 percent higher year-over-year. Although first-time buyers typically represent about 40 percent of homebuyers, they currently account for 30 percent of homebuyers.
New Home Sales Fall in May
Sales of new homes slowed in May after jumping in April. According to the Commerce Department, sales of new homes fell by 6.00 percent on a seasonally adjusted annual basis. 551,000 new homes were sold against the expected reading of 560,000 new homes sold and April's downwardly revised reading of 586,000 new homes sold. New home sales were 8.70 percent higher year-over-year in May.
Mortgage Rates Rise, Weekly Jobless Claims Fall
Last week's mortgage rates don't reflect the Brexit decision and rose slightly on Thursday. The average rate for a 30-year fixed rate mortgage was two basis points higher at 3.56 percent; the average rate for a 15.year fixed rate mortgage was also two basis points higher at 2.83 percent. The average rate for a 5/1 adjustable rate mortgage was unchanged at 2.74 percent. Discount points rose to 0.60 percent for a 30-year fixed rate mortgage but were unchanged at 0.50 percent for 15-year fixed rate mortgages and 5/1 adjustable rate mortgages.
What's Ahead
Next week's economic events include Case-Shiller Housing Market Indices, Pending Home Sales, Consumer Spending and Construction Spending