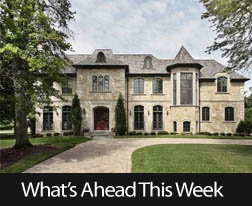 Last week's economic news was mixed, but economic reports for Non-Farm Payrolls and the National Unemployment rate suggest a strengthening labor sector. Pending Home Sales surpassed expectations in May and conversely, construction spending was lower than expected. Here are the details.
Pending Home Sales Reach Highest Level in Eight Months
The National Association of REALTORS® reported that pending home sales in May rose by 6.10 percent over April's reading. May's reading was 5.20 percent lower than for May 2013. The index reading for May reached 103.9 as compared to April's index reading of 97.9. Results for all regions were positive for May:
– Northeast: 8.80%
– West 7.60%
– Midwest 6.30%
– South 4.40%
An index reading of 100 for pending home sales is equal to average contract activity in 2001; pending home sales are a gauge of upcoming closings and mortgage activity.
CoreLogic Home Price Index Reflects Slower Price Gains
National home prices rose by 1.40 percent in May and 10 states posted new month-to-month highs, while year-over-year reading slipped from 10.00 percent in April to 8.80 percent in May. Home prices remain about 13.50 percent lower than their 2006 peak.
The overall rate of construction spending slowed in May to an increase of 0.10 percent from April's reading of 0.80 percent and against expectations of 0.70 percent. Residential construction spending dropped by 1.50 percent in May.
Freddie Mac's weekly survey of average mortgage rates brought good news as the rate for a 30-year fixed rate mortgage dropped by two basis points to 4.12 percent. The average rate for a 15-year fixed rate mortgage was unchanged at 3.22 percent, as was the average rate for a 5/1 adjustable rate mortgage at 2.98 percent. Discount points were unchanged at 0.50 percent for a 30-year fixed rate mortgage and 15-year fixed rate mortgages. Discount rates rose from 0.30 to 0.40 percent for 5/1 adjustable rate mortgages.
Jobs Up, Unemployment Rate Lower
ADP payrolls, which measures private-sector job growth, reported 281,000 new jobs in June as compared to a reading of 179,000 new private-sector jobs in May. The Bureau of Labor Statistics' Non-Farm Payrolls report for June surpassed expectations of 215,000 jobs added with an increase of 288,000 jobs against May's reading of 224,000 jobs added.
The national unemployment rate fell to 6.10 percent against predictions of 6.30 percent and May's reading of 6.30 percent.
No news was released on Friday, which was a national holiday.
What's Ahead
This week's scheduled economic is lean with no events set for Monday. Job Openings, the minutes from the most recent FOMC meeting, along with regularly scheduled weekly reports on mortgage rates and new jobless claims round out the week's economic news.