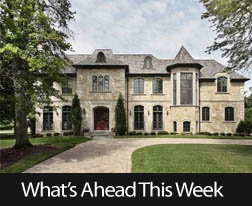 Last week's economic news included reports on inflation, retail sales and weekly readings on mortgage rates and weekly jobless claims.
Mortgage rates were mixed with average rate for a 30-year fixed rate mortgage rising by one basis point to 3.42 percent. The average rate for a 15-year mortgage dropped by two basis points to 2.72 percent, and the average rate for a 5/1 adjustable rate mortgage rose six basis points to 2.76 percent. Discount points averaged 0.50 percent for 30-year fixed rate mortgages and 5/1 adjustable rate mortgages and 0.40 percent for 15 year fixed rate mortgages. Freddie Mac said that recent patterns in mortgage rates suggested that rates are likely to remain low throughout the summer; last year the average rate for a 30-year fixed rate mortgage was 4.09 percent.
Inflation Grows at Steady Rate
Inflation grew by 0.20 percent in June according to the Consumer Price Index issued by the government. Rent, gas and pharmaceuticals drove the increase, while grocery prices declined. The Core Consumer Price Index, which excludes volatile food and energy sectors, also grew by 0.200 percent; this reflects lower grocery prices and relatively low fuel costs.
Increasing rents could propel more renters into the home buying market, but high home prices and short supplies of available homes continue to limit home buyer choices. Inflation remains below the Federal Reserve's target of 2.00 percent annually; this indicates that the Fed isn't likely to raise its target federal fund rates in the near future.
Home and Garden Sales Drive June Retail Sales
Homeowners were busy with home improvements and yard work in June; this boosted retail sales to 0.50 percent against an expected reading of 0.10 percent and May's reading of 0.20 percent. June retail sales excluding automotive sales rose from May's reading of 0.40 percent to 0.70 percent; analysts had expected retail sales exclusive of autos to grow by 0.50 percent in June.
New Jobless Claims Hold Steady, Consumer Sentiment Dips
Weekly jobless claims were unchanged at 254,000 new claims filed; analysts had expected new claims to increase to 265,000 new claims. A wave of new claims created by end-of-school-year layoffs caused new claims to jump in recent weeks, but analysts said that layoffs remain low. New jobless claims remained well below the benchmark of 300,000 for the 71st consecutive week. This extended the longest time that new jobless claims were below 300,000 since 1973.
What's Ahead
This week's scheduled economic news includes the NAHB Housing Market Index, Existing Home Sales, Housing Starts and Building Permits. Weekly readings on mortgage rates and new jobless claims will also be released.