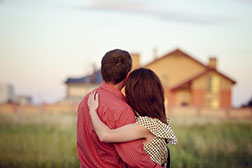 Interest rates may be relatively low, but if you're a homeowner who is struggling with your monthly mortgage payment, it may be time to consider what re-financing options are available on the market. If you are looking for a lower interest rate to improve your financial health, here's what you need to know about the HARP program so you can take advantage of a better rate.
What Is HARP?
The Home Affordable Refinance Program, which is commonly known as HARP, was created in the wake of the 2008 recession, which was brought on by the high amount of housing debt in the United States. As the program was created to simplify re-financing for those who needed a different mortgage option, it is a means of providing lower interest rates to those who possess a solid payment history but may be struggling with the financial burden of their monthly payments.
What's Required For HARP Refinancing?
There are a variety of requirements the homeowner must meet so they can take advantage of the HARP program. In order to apply, the homeowner must have a mortgage that is owned by Freddie Mac or Fannie Mae and was purchased prior to May 21st, 2009. If this condition is met, the homeowner must prove their financial reliability by being up-to-date on their mortgage payments with no payment more than 30 days late in the previous six months. While you'll want to check with HARP's website or your mortgage adviser for details, eligible property types include a primary residence, a one-unit second home and a one-to-four-unit rental property.
What's The Fine Print?
Utilizing the HARP program and acquiring a lower interest rate may seem like an instant benefit for your finances, but it's important to find a lender who does not have high closing costs. If you have a lender at a high cost, it's possible that even at the lowered interest rates offered by using HARP, the savings gain will not balance out with what you will be paying by sealing the deal.
If you're a homeowner who is looking to refinance in 2017, HARP may be the ideal mortgage option for you to re-finance your mortgage and save money on a monthly basis. While it's important to be aware of all of the details involved before choosing this option, if you're considering HARP, reach out to one of our mortgage professionals for more information.