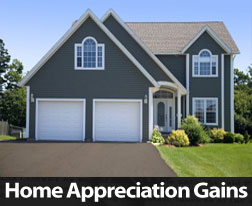 According to the Case-Shiller 20-City Home Price Index, U.S. home prices increased by 0.40 percent in August, which boosted year-over-year home price growth to 5.10 percent. Denver, Colorado continued to lead in home price gains with a monthly increase of 0.90 percent and a year-over-year gain of 10.70 percent. San Francisco, California also posted a year-over-year gain of 10.70 percent, but posted a month-to-month loss of -0.10 percent. Portland, Oregon posted a year-over-year gain of 9.40 percent with a month-to-month gain of 1.10 percent.
Cities with the slowest growing home prices year-over-year included New York City with a reading of 1.80 percent; Chicago, Illinois and Washington D.C. each posted year-over-year gains of 1.90 percent.
Majority of Cities Show Home Price Gains
Before seasonal adjustments, home prices were higher in 18 of 20 cities; after seasonal adjustments, 11 cities had higher home prices, four were unchanged and five cities had lower home prices. After adjustments for inflation, current home price growth approached rates seen in the housing boom of 2005and 2006, but current home price growth is driven by a slim supply of available homes rather than excessive demand seen during the housing boom.
The Federal Housing Finance Agency reported that home prices for sales of homes related to mortgages owned by Fannie Mae and Freddie Mac rose by 5.50 percent year over year.
New Home Sales Slump in September
Sales of new homes dropped by 11.50 percent in September; this was the lowest level since last November. The drop largely attributed to a steeper than usual drop in home sales in the Northeast, which accounted for 62 percent of slumping home prices. Over the past two years, the Northeast region accounted for 32 percent of declining home sales. Low inventories of available homes and rising home prices contributed to the slump in sales; home builders are working to close the gap between available homes and current demand. September's supply of available homes increased to a 5.80 month supply from August's reading of a 4.90 percent
Analysts said that September's inventory of homes for sale reached its highest level in and a half years and also noted that homes under construction had achieved their highest volume in six and a half years. Although millennials are expected to boost home sales as they begin to start families, some analysts pointed out that the slump in sales coincided with indications that third quarter growth may be weaker than economic growth during the second quarter of 2015.