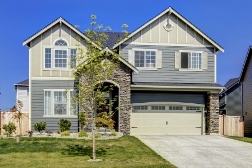 Last week's scheduled economic news releases were limited as no news was released on Monday or Tuesday, but good news did arrive in the form of a dip in mortgage rates for fixed rate loans. The National Association of Realtors® reported higher sales of pre-owned homes and FHFA reported that home price growth associated with mortgages held or backed by Fannie Mae and Freddie Mac held steady in May.
Sales of Pre-Owned Homes and FHFA House Prices Rise
According to the National Association of Realtors®, June sales of existing homes reached their highest level since February 2007. Sales of used homes reached a seasonally-adjusted annual rate of 5.47 million previously owned homes sold against expectations of 5.42 million homes and May's reading of 5.32 million pre-owned homes sold. By comparison, sales of existing homes remain about 24 percent below a pre-recession peak. Lawrence Yun, chief economist for the National Association of Realtors® cited improving labor markets and home buyer concerns over rising mortgage rates as factors contributing to May's reading for existing home sales.
FHFA, the federal agency that oversees Fannie Mae and Freddie Mac, reported that home prices associated with sales of homes financed with loans owned or backed by Fannie and Freddie rose by 0.40 percent month-over-month in May and held steady with April's revised reading of 0.40 percent. FHFA home prices rose by 5.70 percent year-over-year in May.
Mortgage Rates Mixed
Freddie Mac reported that average rates for 30 and 15-year mortgages fell while the average rate for a 5/1 adjustable rate mortgage ticked upward by one basis point. The average rate for a 30-year fixed rate mortgage fell by five basis points to 4.04 percent; the average rate for a 15-year fixed rate mortgage fell by four basis points to 3.21 percent. The rate for a 5/1 adjustable rate rose by one basis point to 2.97 percent. Average discount points were unchanged at 0.60 percent, 0.60 percent and 0.50 percent respectively.
Expected reports on weekly jobless claims and new home sales were not released last week.
What's Ahead
Scheduled economic reports for this week include the usual weekly reports on jobless claims and mortgage rates along with the Case-Shiller Home Price Index reports for May and the Commerce Department's report on pending home sales. The Federal Open Market Committee of the Federal Reserve has scheduled an announcement on Wednesday, and reports on consumer confidence and consumer sentiment will also be released next week.