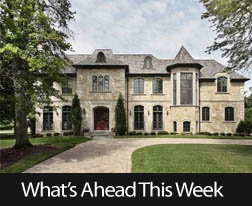 Last week's economic news included the National Association of Home Builders Index, Housing Starts and FHFA's report on August home sales. The National Association of Realtors® released its monthly report on sales of previously owned homes.
Builder Confidence and Housing Starts Post Gains
The Wells Fargo National Association of Home Builders Housing Market Index for September posted its highest level of builder confidence in 10 years a higher than expected results with a reading of 64 for October. Analysts expected a reading of 62 based on September's reading of 61.
The NAHB Wells Fargo Housing Market Index reading is based on three builder confidence readings. Builder confidence in current market conditions rose three points to a reading of 70; builder confidence in housing market conditions over the next six months rose seven points to 75 and buyer traffic in new housing developments held steady with a reading of 47. Any reading over 50 indicates that more builders are confident about market conditions than those who are not.
This news was consistent with September housing starts, which were also higher. The U.S. Commerce Department reported September's housing starts at an annual level of 1.206 million starts against expectations of 1.139 million starts and August's reading of 1.132 million housing starts.
Sales of Previously Owned Homes Surpass Expectations
September sales of pre-owned homes surpassed expectations according to a report released by the National Association of Realtors®. Sales of previously owned homes reached 5.55 million sales on a seasonally-adjusted annual basis against an expected reading of 5.34 million sales. August's reading was adjusted downward from 5.31 million sales to 5.30 million sales of previously owned homes.
Lawrence Yun, Chief Economist for the National Association of Realtors®, cited lower mortgage rates, higher demand for homes and low inventories of available homes as driving higher sales. Slight easing of mortgage credit standards was also said to be driving home sales.
FHFA's Home Price Index for August showed that home prices for properties associated with mortgages owned by Fannie Mae and Freddie Mac increased at a rate of 5.05 percent in August as compared to a growth rate of 5.80 percent year-over-year in August 2014.
Mortgage Rates Mixed, Weekly Jobless Claims Lower
Weekly reports on mortgage rates and jobless claims yielded mixed results. Freddie Mac reported that average rates for fixed rate mortgages dipped with the average rate for a 30-year fixed rate mortgage three basis points lower at 3.79 percent; the average rate for a 15-year fixed rate mortgage fell by five basis points to 2.98 percent. The average rate for a 5/1 adjustable rate mortgage ticked upward by one basis point to 2.89 percent. Average discount points were 0.60 percent for a 30-year fixed rate mortgage, 0.50 percent for a a5-year fixed rate mortgage and were unchanged at 0.40 percent for a 5/1 adjustable rate mortgage.
Weekly jobless claims were lower than expectations with a reading of 259,000 new claims filed against expectations of 265,000 new jobless claims. New claims were higher than the previous week's reading of 256,000 new claims. Analysts are keeping an eye on jobs reports as stronger job markets are essential to expanding home sales.
What's Ahead
This week's scheduled economic news includes Case-Shiller reports on home prices along with reports on new home sales, consumer confidence and consumer sentiment. Core inflation readings will be released Friday after Thursday's releases of Freddie Mac mortgage rates and weekly jobless claims.